Vasil Pavlov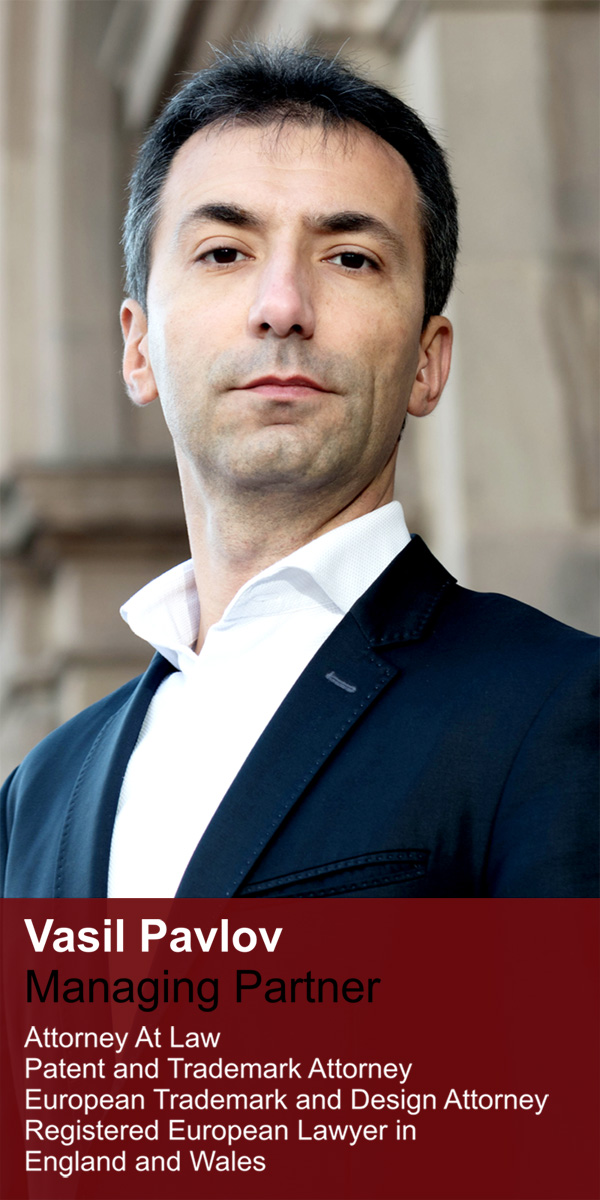 Vasil Pavlov is a Bulgarian attorney at law, patent and trademark attorney with near 15 years of experience in intellectual property protection. He is also a pioneer in global data privacy, protection and compliance in the context of the rapidly changing technological landscape.
The vast legal practice of Vasil through the years covers a wide range of areas – copyright consultations, including contract development and negotiations; consultations in relation to patents, trademarks, geographical indications and design protection, including representation before the Bulgarian Patent Office and the Office for Harmonization in the Internal Market in registration and opposition procedures and representation before the Court and Customs authorities for enforcement of rights for both national and international clients.
Vasil began his professional career as a lawyer at Manev and Partners (later transformed in MS Partners) law firm in 2001 . With his strong commitment to the development of this firm he progressed to become the managing partner of intellectual property law firm MS Partners in 2006, which position he held until May 2012.
In 2003 Vasil was one of the first lawyers in Bulgaria to implement Customs Border Measures procedure in his practice for the protection of the rights of major world brands and today he represents various foreign and local trademark owners in respect to Border Measures. In 2009 he successfully won the first for Bulgaria court case for Data Exclusivity infringement where he represented a local division of large international pharmaceutical company.
With more than 180 court cases and more than 200 procedures before the Patent Office against decisions of the office or for enforcement of administrative liability of intellectual property infringers in his career, Vasil ranks up among the top litigators in Bulgaria.
Alongside his practice before the local institutions, Vasil has also developed an intensive practice before the OHIM and in 2011 he has established himself among the top 5 Bulgarian representatives by number of filings of CTMs.
In 2014 he was Top ranked by Chambers Europe, an independent research edition of legal practitioners, as a leading Bulgarian lawyer in the field of Intellectual Property, noted for "breadth of his knowledge and responsiveness".
________________________________________________________
LAWYER TESTIMONIALS
"He continues to command great respect among interviewees, with sources hailing him as a "standout" practitioner and "one of the most notable IP lawyers in Bulgaria."
*Chambers Europe 2017
"One of the best IP litigators in the country", "He is a very smart and sharp professional, who does his homework perfectly"
*WTR 1000 2017
"Extremely active and energetic" , "Devoted to his clients.", "Always giving us sound advice,"
*Chambers Europe 2016
"You always notice how sharp he is."
"He is seasoned in every aspect of trademark law, he's precise and he acts immediately as required."
*WTR 1000 2016
"A prominent strategic thinker", "A brilliantly creative lawyer"
*Chambers Europe 2015
"Vasil has an exceptional ability to understand and solve complex trademark issues."
"He is not afraid to stand up and defend new and unorthodox thesis that differ from the usual course of action however he always puts the client's interests first and would not jeopardize them in any way."
"Vasil has proven to be ready to tread uncharted waters and think outside the box, even in the somewhat conservative field of intellectual property."
*Clients Choice 2015
"His experience in trademarks abounds and he is very well established in the market. He is incredibly competent in every aspect of trademark law and is precise and fast. His dispute resolution style can temper any unpleasantness in the situation, remaining calm but acting immediately and as required. He is far superior to any other lawyer we have encountered."
*WTR 1000 2015
"His advice has been invaluable; he can provide an informed response immediately so that I can make a decision."
*Chambers Europe 2014